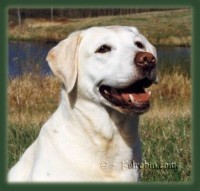 Kelrobin prides itself in breeding "All-Purpose" Labrador Retrievers. This means my Labs are of a more moderate "type" which is at home in the ring or field. We believe that the Labrador should remain a retriever and therefore retain the athleticism that allows the Lab to do what it is bred for......RETRIEVE.
I enjoy showing in conformation, obedience, agility, retriever field events, also having participated in tracking and therapy work. My dogs have earned numerous titles in these competitions, all owner (or non-professionally) handled. I mostly just enjoy my Labs as pets.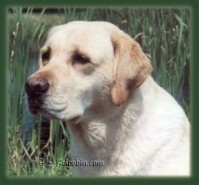 Named for my first two home-bred champions, Can. CH. UCDX, Woodhaven Amber Silk, CD, WC, CGC, TDI, Can. CDX, WC (Kelly - left) and her daughter, Can. CH. UCD, Woodhaven Silk-N-Silver, CD, WC, WCX, JH, CGC, Can. CD, WC (Robin - right) I have been showing and breeding Labradors since 1974.
Kelrobin is located near Grand Blanc, Michigan.
About Kelrobin and the dogs: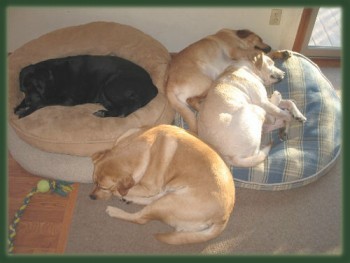 First and foremost, my dogs are family members. They live in the house as part of my family. I do not have kennels. While I know some dogs do ok in kennels, I prefer to have my dogs inside with me. Yep, dog hair is part of the decor, but what's a few dog hairs between friends?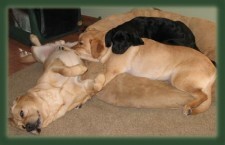 We aren't house-proud. If we were, we wouldn't abide the scratches on the door frame, the holes in the screen, the darkened shine of worn spots on the chair. We would wince at the mottled carpet and fret at the hair clinging to our clothes.
We don't. If anything, we lovers of dogs are a tolerant lot, finding greater value in the unabashed affection of our friends than in the immaculate sofas. Shoes can be replaced, but heroic retrievers are timeless.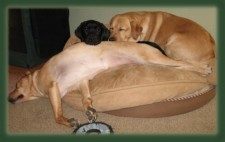 Without dogs, our houses are cold receptacles for things. Dogs make a fire warmer with their curled presence. They wake us, greet us, protect us and ultimately carve a place in our hearts and our history. On reflection, our lives are often referenced in parts defined by the all-too-short lives of our dogs. -- Paul Fersen
~Member of~
Huron River Labrador Retriever Club (founding/lifetime/charter member)

Labrador Retriever Club, Inc.


© ~ Kelrobin Labradors ~ All Rights Reserved
All photos are taken by/property of Kelrobin unless noted otherwise and are not public domain and are subject to copyright laws.

Please do not take our photographs or use them elsewhere without the written permission of the owner.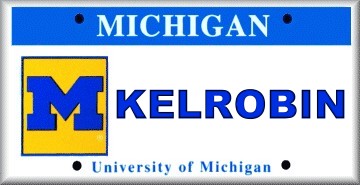 Please educate yourself about these silver mutts


Follow us on Facebook